The future is now
The field of graphic design has always been about creative expression, visual storytelling, and effective communication. With the advent of artificial intelligence (AI), graphic designers have a powerful ally at their disposal to enhance their creative processes, streamline workflows, and deliver more impactful designs.
In the ever-evolving realm of graphic design, creativity knows no bounds. It is a universe where visual storytelling merges with artistic innovation, where every stroke of the digital brush holds the potential to ignite emotions and spark conversations.
---
there are dynamic allies waiting in the wings, ready to elevate your creative endeavors to unparalleled heights? Welcome to the era where art meets algorithm, where imagination converges with machine intelligence – a journey into the world of graphic design enhanced by the remarkable power of Artificial Intelligence (AI).
In this post, we will explore various ways and multiple tools designers can use to incorporate AI into their workflow, helping you stay at the forefront of the industry.
Image Enhancement and Retouching
One of the most prominent applications of AI in graphic design is image enhancement and retouching. AI-powered tools like Adobe Sensei and numerous third-party apps can automatically enhance image quality, remove imperfections, and even suggest creative enhancements, saving designers valuable time and effort.
---
Consider a scenario where a designer is tasked with editing a large batch of product photos for an e-commerce website. In the pre-AI era, this would have been a painstakingly laborious process, involving the meticulous removal of imperfections, color correction, and adjusting lighting to create a cohesive look. The process would not only be time-consuming but also prone to human error, leading to inconsistencies in the final images.
Available Image Enhancement & Retouching tools:
In no specific order...
Automated Color Palettes
AI can assist designers in selecting harmonious color palettes. Tools like Colormind and Adobe Color Wheel utilize AI algorithms to generate color schemes based on your input or the content of an image. This can be especially useful when working on branding projects or creating visually appealing designs.
---
These AI-powered color palette generators operate on multiple fronts. They can take user input, such as specific color preferences or thematic keywords, and use AI algorithms to generate complementary color schemes. This functionality is particularly useful when working on branding projects, where consistency and the right emotional resonance with the target audience are paramount.
Available Automated Color Palette tools:
In no specific order...
Generating Design Ideas
AI can help spark creativity by generating design ideas and concepts. Platforms like Runway ML and DALL-E can generate art based on keywords, opening up new avenues for creative inspiration. Designers can use these generated concepts as a starting point for their projects or to explore innovative design directions.
---
Imagine a scenario where a designer is tasked with creating promotional material for a travel agency specializing in exotic destinations. Traditionally, the process would involve extensive research, mood boards, and brainstorming sessions to conceptualize a visual theme that encapsulates the allure of these destinations. However, AI-powered tools like Runway ML can expedite this creative journey by generating a diverse array of design ideas.
Available Idea Generation tools:
In no specific order...
Typography and Font Selection
Selecting the right fonts and typography is a critical aspect of graphic design. AI-driven tools can analyze the content and purpose of a design project to recommend suitable fonts and text arrangements. This can save designers time and ensure that typography choices align with the design's objectives.
---
AI-driven typography tools operate on a multifaceted level, and their potential applications are vast. At the core of their functionality lies the ability to analyze the content and purpose of a design project comprehensively. When a designer inputs information about the project's objectives, target audience, and message, the AI algorithms get to work, deciphering the intricate nuances of the task at hand.
Available Typography tools:
In no specific order...
Personalization and Dynamic Content
AI can play a significant role in creating personalized and dynamic content. For instance, using AI algorithms, designers can generate customized graphics, advertisements, or website content that adapts to user preferences, location, and behavior. This helps create engaging and relevant designs.
---
When applied to website content, AI can dynamically modify the layout, text, and visuals to cater to different user segments. For instance, a news website can rearrange its homepage to prioritize content that is most relevant to the user's interests, ensuring that they stay engaged and find value in their visit.
Available Personalization and Dynamic Content tools:
In no specific order...
Data Visualization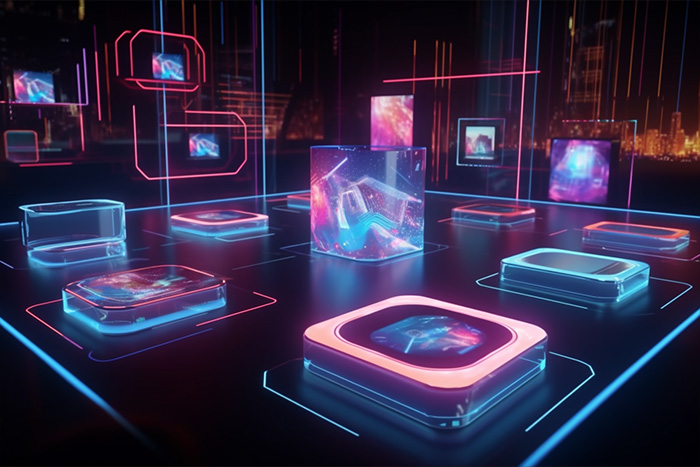 Graphic designers working on data-heavy projects can benefit from AI-powered data visualization tools. These tools can automatically generate charts, graphs, and infographics based on data inputs, making it easier to present complex information in an engaging and digestible format.
---
Ultimately, the integration of AI into data visualization not only streamlines the design process but also empowers designers to present complex information in a compelling and digestible format, enhancing the impact and understanding of data-driven messages. As businesses and organizations increasingly rely on data to make informed decisions, the role of AI in data visualization becomes ever more critical in enabling effective communication and decision-making.
Available Data Visualization tools:
In no specific order...
Content Creation and Automation
AI can assist in content creation by generating copy and creating layouts for various marketing materials, such as social media posts, emails, and advertisements. Platforms like CopyAI and Canva's Pro version offer AI-powered content generation capabilities to streamline your design projects.
---
In sum, AI's role in content creation is a testament to its ability to augment and enhance human creativity. It offers tools and capabilities that can significantly expedite content generation while maintaining a high level of quality, ultimately empowering professionals to craft compelling and effective marketing materials that resonate with their audiences.
Available Content Creation and Automation tools:
In no specific order...
Predictive Analytics
AI can help graphic designers anticipate trends and design preferences by analyzing large datasets and predicting future design directions. By staying ahead of design trends, designers can create more relevant and appealing visuals.
---
AI's ability to anticipate design trends is rooted in its capacity to process and understand large volumes of data, which includes social media trends, user behavior, cultural shifts, and design history. By analyzing this data, AI algorithms can discern patterns and correlations that might be challenging for humans to spot. Here's how AI aids in trend anticipation:
Available Predictive Analytics tools:
In no specific order...
User Testing and Feedback
Artificial Intelligence (AI) has revolutionized the way designers gather insights from user interactions, transforming raw data into actionable intelligence that informs design decisions. Through the analysis of user behavior and feedback, AI-driven tools have become indispensable allies in optimizing designs for enhanced user engagement and conversion rates.
---
By optimizing designs based on data rather than assumptions, designers can create more user-centric and effective experiences. This iterative approach ensures that design projects are continually refined and optimized to meet the evolving needs and preferences of the user base, ultimately leading to better user satisfaction, increased conversions, and the achievement of design objectives.
Available User Testing and Feedback tools:
In no specific order...
Artificial intelligence is the future, and the future is here now. It's the promise of being able to liberate creative people to do more creative things.

Brad Dourif